How To Oversee, Analyze, And Improvise Multiple Businesses?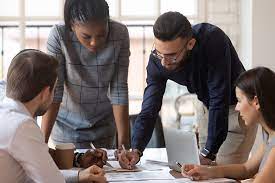 Does the hurdle of managing multiple businesses suppress your inner urge for expansion? Are you an aspiring entrepreneur who aims to go beyond the ordinary and open multiple chains of your business idea? If you find yourself answering any of these questions in the affirmative, you are heading in the right direction in your entrepreneurial journey. Managing several aspects of a business is an arduous task, which, if not handled efficiently, may lead to constricting the growth and profit you have envisioned for your business.
Ultimately, it begs the question, what is the optimal solution to help you streamline these aspects of your business without breaking a sweat? The answer to the former question lies at the tip of your fingers, followed by a few clicks away on your smartphone or your laptop. With the advent of digitalization, individuals can easily supervise and run their businesses smoothly by keeping track of all expenditures, cash flow, accounting, digital marketing, customer behavior, and so on. Any individual can avail of all these features if they choose the right platform or application, such as HDFC Bank SmartHub Vyapar, Phonepe business, etc.
The Treasury Department Of All Your Businesses
Online applications and platforms, such as Google pay business are designed with the intent of making a profit while providing solutions to their users. However, these platforms are designed not just to give solutions but also to add value to your businesses by helping you amplify your brand value in the market while also helping you manage all your businesses under one roof. Below are some premium features that can be leveraged through these applications.
Accounting And Engaging Dashboard
Rather than profits, entrepreneurs place more reliance and significance on their accountants or bookkeepers. A major chunk of money can either be lost or gained, attributing to the accounting done. These applications maintain all the records by providing an engaging dashboard and a one-for-all payment platform. Be it customers, suppliers, or employees, you can keep track of all your spending and earning through just one application, such as HDFC Bank SmartHub Vyapar, Paytm business, etc. The simple yet engaging design of the dashboard makes it convenient for any entrepreneur to get a gist of all the expenses and incomes in their businesses.
Quick Loans And Transfers
Quick And Short loans have been popular for entrepreneurs who run multiple businesses. However, it becomes difficult to convince or indulge in the intricacies and hassles involved in availing such business loans. As an alternative, these platforms help you with a quick and seamless transfer of funds at a swift moment, without having to go through any of the complexities that revolve around loans. Depending on your credit score and the eligibility criterion, you can choose the type of paperless loan you need.
Digital Marketing And Brand Value
Brand value plays a key role in spreading the word of your business to your target audience. Unlike the traditional marketing game, these applications help you stay ahead of the game and engage in effective digital marketing by filtering out your target audience. The filtering of the right type of audience can be determined from the reports and analysis shared by these applications, which can ultimately point you toward the direction that requires offers, discounts, and all the activities that would allure your customers.
Final Thoughts
Running multiple businesses can be a passion, and room for further expansions if you can efficiently manage them. With the valuable elements offered by these online platforms, such as Google pay merchant, you can single-handedly monitor the most complex aspects of your business through your mobile screen.