How to e-verify your Income Tax Return using Aadhaar Card?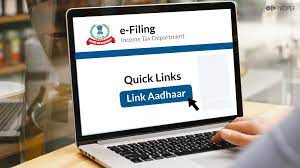 Filing the ITR (Income tax returns) is an important obligation that every Indian citizen must fulfil. And, today, with the introduction of online filing, the process for filing ITR has become simpler and faster than before. However, the filing process is complete only after it is verified. 
Earlier, the ITR verification process involved three steps, including:
Fill up the ITR form online and submit it.

Download the ITR-verification from the e-filing portal and sign it.

Send the signed copy to the Centralised Processing Centre, Bengaluru, to confirm your tax return.
While the old verification process is still available, e-verification of ITR is fast becoming popular due to its speed and hassle-free operations. With e-verification, you can verify the returns online with EVC or electronic verification code. 
What is EVC?
An EVC is a 10-digit code that contains a combination of alphabets and numbers. You receive this code on your registered mobile number while filing your tax returns online. It helps the tax department verify the identity of the tax filers. The tax filers can be individuals and HUF or Hindu Undivided Family. You can generate the EVC while filing your returns through the Income Tax department's e-filing portal. 
Verifying your tax returns online with Aadhaar Card
Before using your Aadhaar card for e-verification, ensure that your Aadhaar card is linked with your PAN card. If you have not yet linked your Aadhaar with PAN, you should do so by March 31, 2022. 
You can easily link your Aadhaar card and PAN card by following these steps:
Visit the IT Department's official e-filing website
Click on "Link Aadhaar" listed under the Quick Links tab
Enter your PAN and Aadhaar card number, name as per Aadhaar card, and mobile number in the designated fields and click on "Link Aadhaar."
Your Aadhaar number and PAN will be linked after validation.
Remember, it is mandatory for everyone except NRIs to interlink their Aadhaar card and PAN card.
Using Aadhaar to E-Verify IT Return
You can use your Aadhaar to e-verify your income tax return using the following steps after it is linked with your PAN card. 
Visit the new e-filing portal of the income tax department.
Log in to the portal using your PAN card number and password.
Carefully fill up the IT return after choosing the appropriate form.
Once your IT return is submitted, you will be asked to select the mode of verification of your return.
Out of the options provided, choose the one that says, "I would like to generate Aadhaar OTP to e-verify my return".
An OTP (One-Time Password) will be sent to the mobile number registered with your Aadhaar. This OTP will be valid for 10 minutes.
Enter the OTP in the designated field and hit "Enter."
Download the acknowledgement slip of the e-verified return. The slip will be sent to your registered email id as well.
As you can see, the whole process of e-verifying using your Aadhaar is easy and quick.